We need 3 owners to take over owners that walked, or simply have not replied. You get a discount for year 2 (half price) should you take up one of the Franchises.
This is a 16 team keeper league taken from the league I set up in 2008. Started last year. So this would be year 2. Entry is payed via paypal at a rate of £50 fee per season, 2nd season £25.. thereafter £50 a season. I have made a little flier to show you a bit of information. All three new owners will enter a random draft therefore each will get a chance to take the first roster, therefore if you draft 1 you get first choice, drafted 2nd you get the second choice and 3rd you get the remaining roster.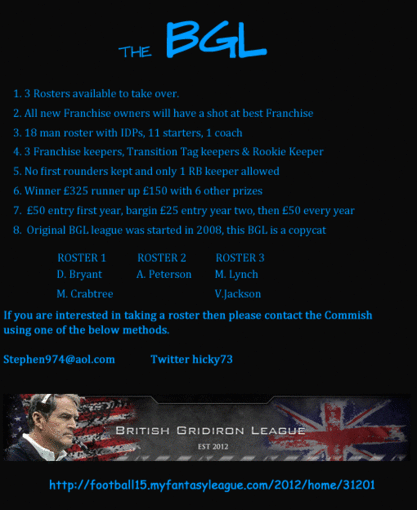 Current 2012 league page link below, once we have the 3 owners we move to 2013 page.
http://football15.my...2012/home/31201
If you have any questions please do not hesitate to ask. This is a world league with Americans, Irish, Brits, Finnish owners already in the 13 filled roster. Each new roster will get there own logo made.
Interested owners get in touch and I can send you the pdf rulebook. I am advertising in a number of spots so be quick.
Thanks for reading..
Stephen
BGL COMMISH